Hey hiking ladies, before you try sneaking onto that trail in a pair of regular, ol' sneakers  there are a few things you should know about climbing kicks. First off, forget about fashion. We know, it's hard to do after last week's post on 'outdoor couture,' but there are guidelines that must be met unless you want to become shareholders in Icy Hot stock. 
Here are a few features to look for when selecting the perfect hiking boot, as well as a few pairs we think fit the bill.  
Heel Support 
This is true about just every type of shoe—hiking or otherwise. The heel is the part of the foot that endures the greatest amount of abuse, so it requires the most shock absorption during high-impact activities like hiking.      
Asolo's Atlantis GTX for women offers active heel support to prevent foot and back pain, so you can keep your mind off your feet and on the trail ahead. The springy shocks are a lot like those featured in many basketball shoes, and provide maximum comfort as you climb.
Ventilation 
A good pair of hiking boots, unlike a needy friend, allows you to breathe. As they work hard to tackle hills and mountains and whatever other obstacles stand between you and your destination, your feet get hot and proper ventilation ensures that they don't overheat. Airing out those little piggies will make for a more enjoyable hike. Plus, it'll keep your from being known as Stinky Feet Susan by fellow adventurers.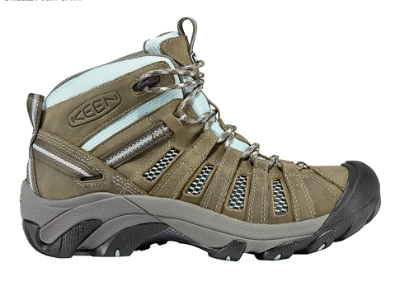 The Voyager Mid by Keen provides adequate ventilation with its mesh panels and breathable, moisture-wicking lining. Ah, it's about time your feet got some fresh air!
Thickness
Take a tip from our primitive ancestors whose foot soles were thick enough to walk the earth's rugged surface without the luxury of Dr. Scholl's. Hikers should choose a thick boot to protect their feet from the elements, so every step isn't a potential hazard and not even a pebble poses a threat.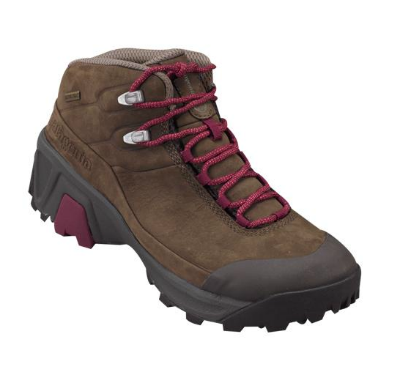 Patagonia makes the list again with its P26 Mid GORE-TEX® boot complete with patented Vibram® Ecostep dual-density rubber soles to keep some space between you and the rocks. Think of them as the all-terrain vehicle of the shoe world; no license required.
Lightweight  
Thick doesn't have to mean heavy when it comes to footwear. Unless your biggest fear while hiking a trail is that a strong wind might come and blow you into the next county, there's no reason to clonk around in shoes that you can barely lift to walk. Lighter shoes will help you to move faster and more freely, allowing you to enjoy your hike rather than worrying about the unnecessary baggage your feet have to bear.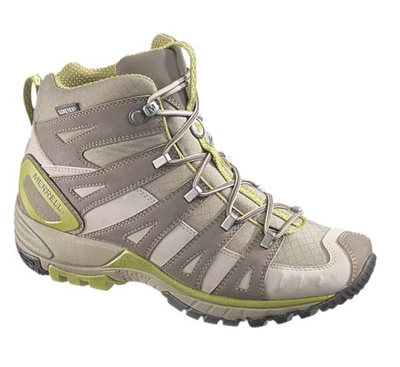 Get a load of this lightweight! Merell's Avian Light is a waterproof, multi-sport shoe that won't weigh you down as you make your way to the top. 
Non-Slip Features 
Even if you are playing an informal game of follow-the-leader on the trail or ridge, you can still maintain control with no-slip grip. A little mud can be a big pain without the proper footing, so make sure your boots offer a little slip resistance.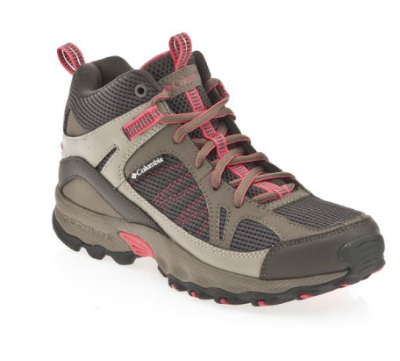 The Switchback™ from Columbia is a modern hiker's best friend, transitioning easily from trail to street and back again with its versatile Omni-Grip®. This shoe's traction grips mud, rocks and any other obstacle in between you and that scenic overlook. 
Now that you know what to look for, boot shopping should be a walk in the park. Happy feet and happy trails!